We're in a new series called "Foundations" which builds off of Jesus' metaphor in Matt 7: "A house built on sand will never be able to stand BUT a house that's built on the rock will never be able to fall."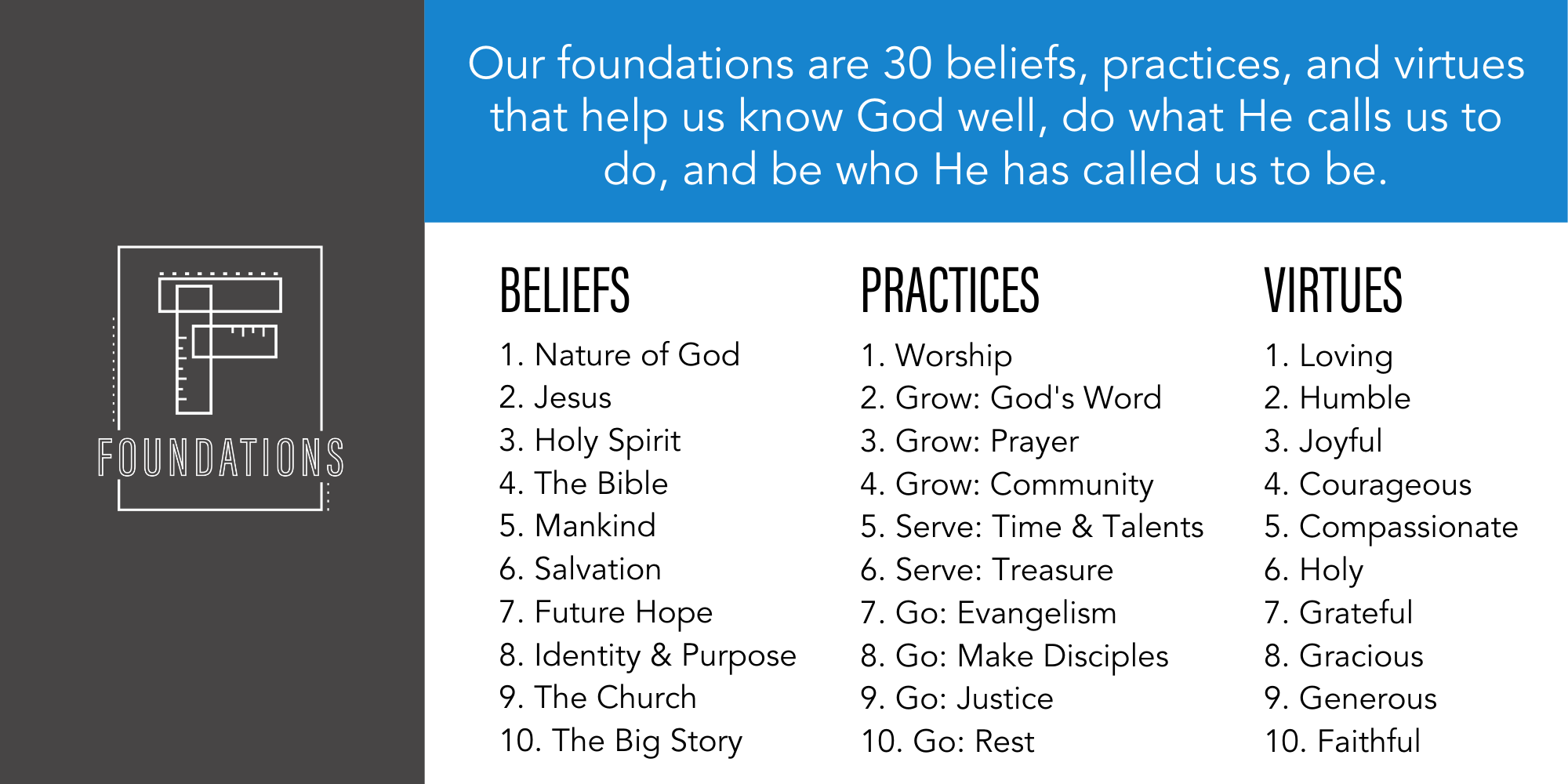 This week, we're in Practice #6: Serve with Generosity. Today, we will take inventory of the "treasure" God has given us. Grab a piece of paper and a pen to take notes. Remember - everything we have has been entrusted to us to be used for His glory and purposes.
Physical and Financial "Treasures"
Spend a few minutes writing down the resources that God has given to you, including your material possessions (house, clothes, car, food) and financial provisions.
Let's pray:

"God, help me to reorient my life according to your Word. You tell me that LIFE is not found in the abundance of my possessions but in knowing Jesus. May I know that, deep down. I confess my idolatry of money and things. I worship You, the God of the universe."

Sit in confession and repentance.

Let's pray:

"God, if I am a steward of your gifts, let me know how I can serve you this week. Bring to mind a person or situation for which I can give of my physical and financial resources. Make me a cheerful giver."
Educational & Talent-Based "Treasures"
Spend a few minutes writing down the skills, talents, experience, and education that you've been granted. List out all the ways that these can be used to advance the Kingdom of God.
Let's pray:

"Father, you have given me countless opportunities to learn and grow. Thank you! Would you give me a holy imagination for how these 'treasures' can be used to serve your Kingdom purposes? Show me others who I can pour myself into, train, and mentor - all for your glory!"
Spiritual "Treasures"
Finally, spend a few minutes writing down what has been given to you as a person who has faith in Jesus (the list will be long!).
Let's pray:

"God, I marvel at your goodness to me. You've granted me ____________ in your Son Jesus. Thank you! Give me a heart of gratitude and generosity."

Let's pray: "Lord, if I am a steward of your gifts, let me know how I can serve you this week. Bring to mind a person or situation for which I can give of my spiritual 'treasures.' Make me eager to tell others about Jesus."
Published on 11-03-2021 @ 4:13 AM CDT