Men's Ministry
The Men's Ministry challenges men to continue growing as followers of Christ while intentionally investing in the next generation. Throughout the week, we offer men's small groups. Why? Beacuse we are not designed to do life alone, we need other men encouraging and challenging us in our faith journey.
To learn more and to get plugged in, contact our Associate Pastor, Brian Radabaugh.
Foundations of a Godly Man
Men… Interested in increasing your understanding of God and His Word? Join us at the church Friday Mornings from 6:30 – 8:00 for MEN's BIBLE STUDY that will deepen your faith, improve your walk with the Lord, and build lasting relationships with other men. Throughout the year, various leaders from DBC will lead the study with a systematic approach to theology and challenge us with meaningful small group conversations and discussion.
Friday mornings at 6:30 - 8:00 in the Fireside Room at Dallas Bible Church.
Sign up by clicking HERE or just show up.
Cost: Weekly donations for breakfast appreciated
Format: Relevant teaching followed by small group discussion and prayer

MEN'S SUMMER BIBLE STUDY 2022
"Come and See" said Phillip in John 1:45-46. This is the essence of discipleship, to follow Jesus and invite other to join you in following Jesus. All of us are called by Jesus to make disciples, but not all of us have the confidence and experience to live out the command to make disciples.
Join us on Wednesday evenings at Dallas Bible Church at 6:30 for a four part study on building one's confidence to follow Jesus and inviting others to follow Him.
There's no charge to participate in this Men's Discipleship study, just register HERE.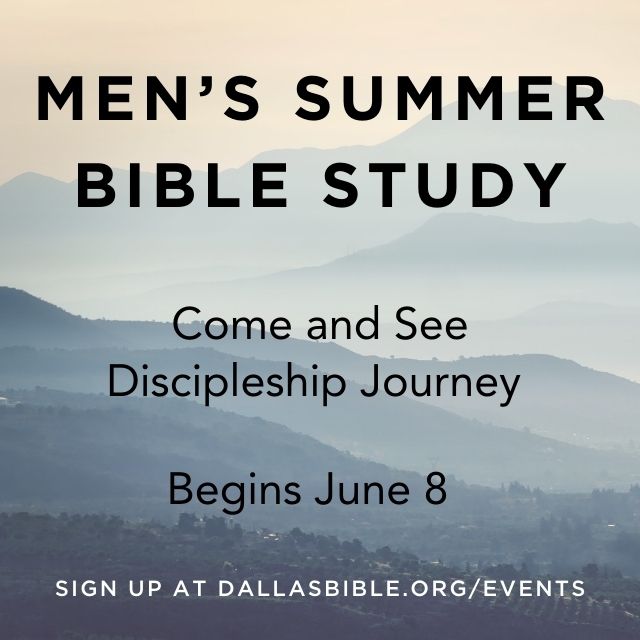 Save