We're in a new series called "Foundations" which builds off of Jesus' metaphor in Matt 7: "A house built on sand will never be able to stand BUT a house that's built on the rock will never be able to fall."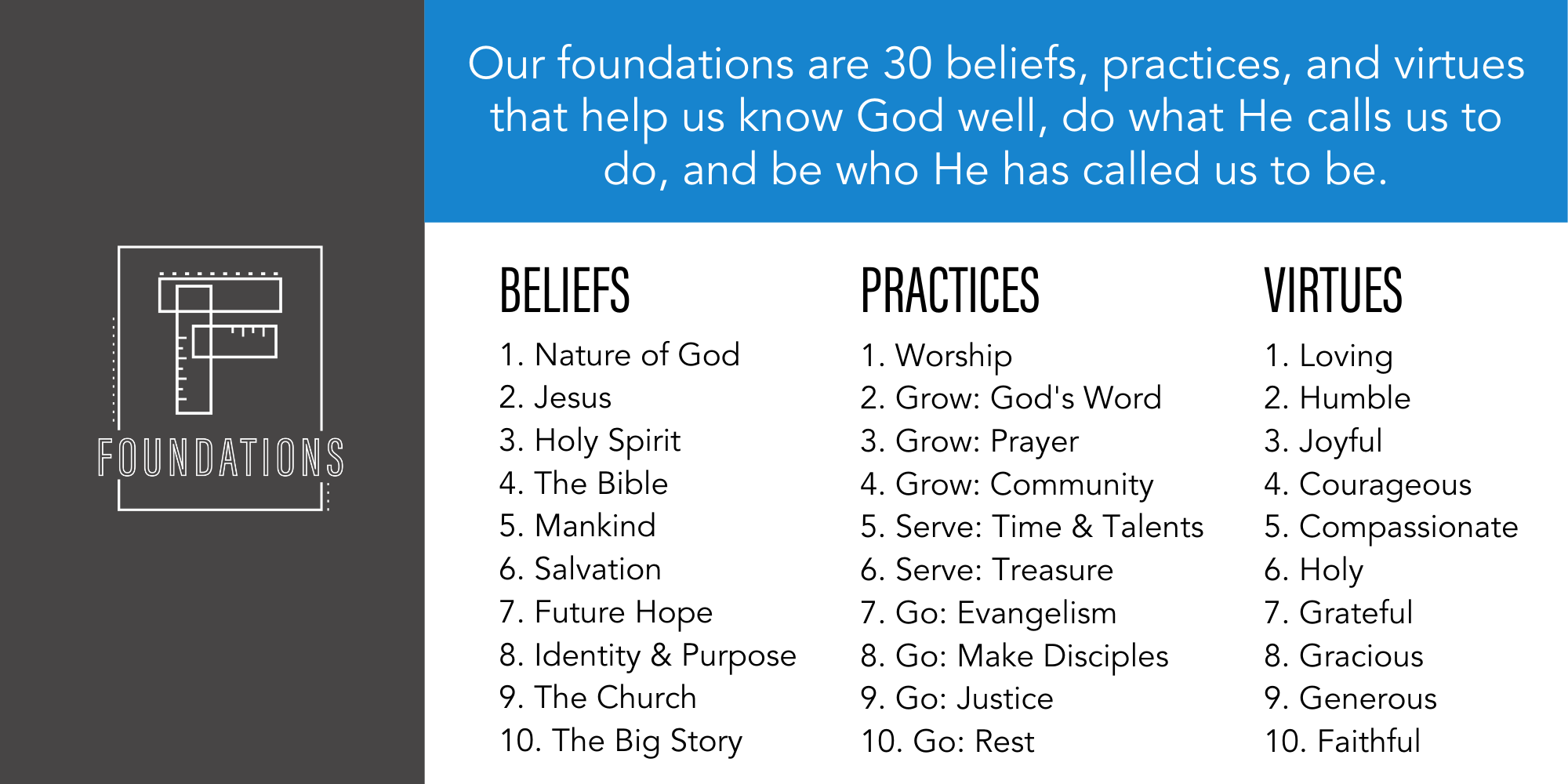 After Jesus rose from the dead, he came to his disciples and delivered this final message: "All authority in heaven and on earth has been given to me. Therefore go and make disciples of all nations, baptizing them in the name of the Father and of the Son and of the Holy Spirit, and teaching them to obey everything I have commanded you. And surely I am with you always, to the very end of the age." You and I are the results of Jesus' charge to His apostles. Our faith is the result of the successful handing down of the faith, generation by generation. What a joy it is to get to participate in this call to let others know who Jesus is and what it looks like to follow Him!
For Group Leaders
Begin in prayer. Welcome the Holy Spirit to the group and invite Him to lead, guide, and convict your group as you meet together.
Reflect on Sunday's sermon as a group. What were some highlights? Was anything particularly helpful, convicting, or confusing?
Consider the following questions and pick a few to focus your discussion.
Examine the Word
Read 2 Timothy 2:1-7.
Read Deut 6:4-9.
Read Romans 10:14-15.
For Discussion
What/who is a disciple? How would you describe a disciple of Jesus?
Paul tells Timothy to "entrust" the faith to others. What is the difference between entrusting a message and simply delivering it?
Moses says in Deuteronomy 6 that the people of Israel are to pass on the faith in several ways. What are those ways?
One of our DBC values is "intentional relationships not passive familiarity." How does this connect with disciple-making?
Talk about how you became a disciple of Jesus - the people, churches, books, and groups that helped you mature and grow as His follower.
Talk about how you've been involved in the process of making disciples. Share stories (good and bad) of how you've learned to entrust your faith to others.
Practice
Consider: We are all intentional with things that we value. Who is the recipient of your intentionality to pass on the faith? Write down one person to whom you could begin entrusting your faith.
Join: Small groups are the major way that we help one another develop as disciples of Jesus. Are you involved in a small group? If not, what is stopping you from joining?
Show & Tell: For those who have children, you can help them become disciples of Jesus by implementing a Christian version of "show & tell" in your household. In other words, make sure that you show by your actions what it looks like to be like Jesus and live like Jesus, not just tell them what to believe.
Pray: "Lord, help me to find others who want to pour into me, showing me what a mature follower of Jesus looks like. And then help me have someone who I can pour into as well."
For Family Discussions
Take some time to talk about the sermon together. What did you learn that was
new? Were there any parts that were confusing?
Get creative with your family! What are some ways that you can integrate your faith into your everyday activities like car rides, dinners, game nights, homework, etc?
Some resources to consider for family discipleship:

The Bible Project
Parent Cue (they produce the Orange curriculum that DBC uses in Kids and Kids Jr. ministries)
RightNow Media (email

[email protected]

for a log-in)
The book "Family Discipleship" by Matt Chandler & Adam Griffin
The Disciple Maker's Podcast
Published on 11-14-2021 @ 4:28 AM CDT