We're in a new series called "Foundations" which builds off of Jesus' metaphor in Matt 7: "A house built on sand will never be able to stand BUT a house that's built on the rock will never be able to fall."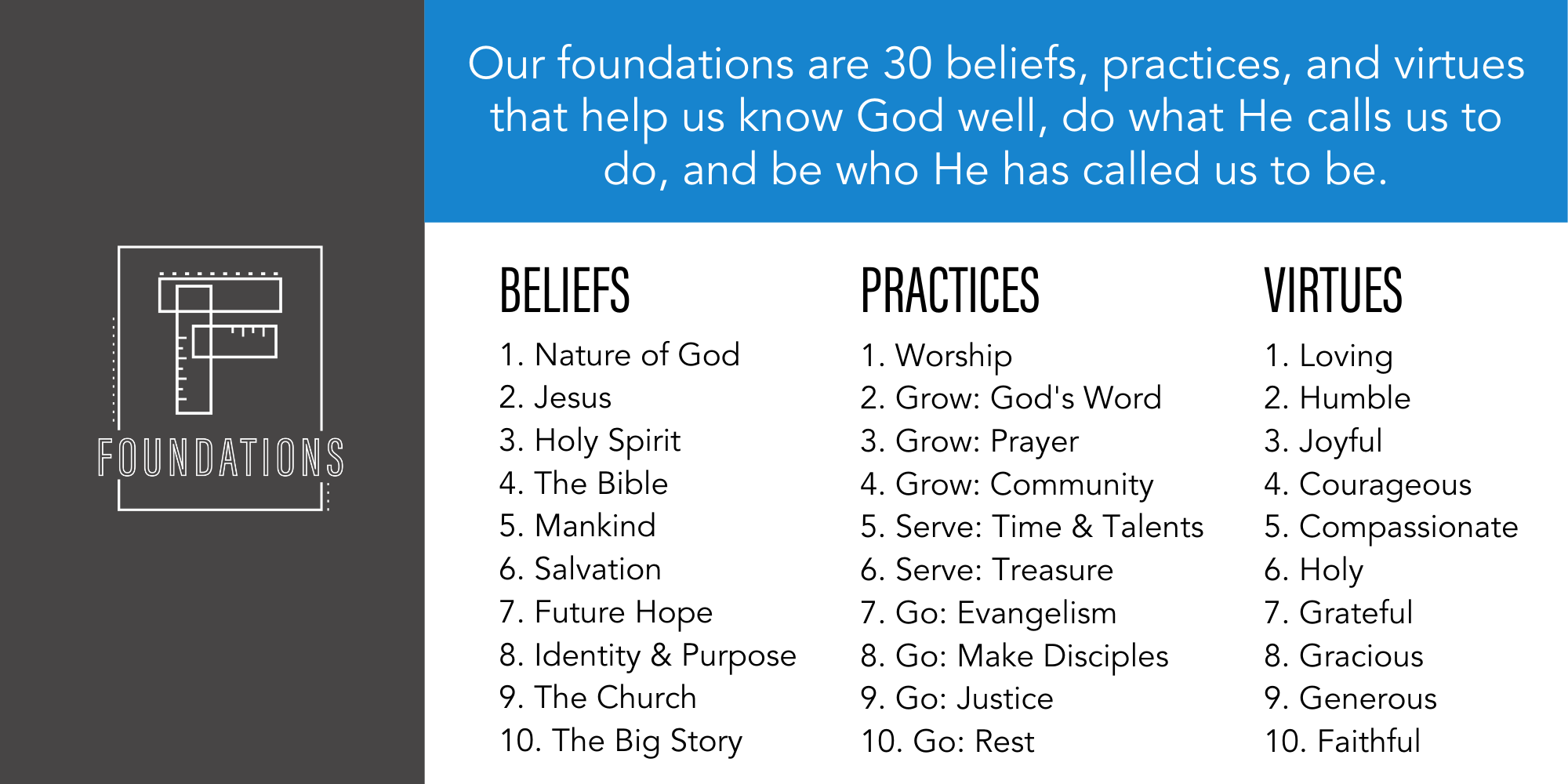 This week, we're in Practice #8: Go Make Disciples. We will look at four ways the New Testament describes discipleship, or the process of making more followers of Jesus. These descriptors include the words mutual, didactic, edifying, and holistic.
Today, let's consider that discipleship is edifying, meaning that it builds others up toward maturity and strength. Let's read from Hebrews 10:19-25 and Ephesians 4:7, 11-16 (NET):
Therefore, brothers and sisters, since we have confidence to enter the sanctuary by the blood of Jesus, by the fresh and living way that he inaugurated for us through the curtain, that is, through his flesh, and since we have a great priest over the house of God, let us draw near with a sincere heart in the assurance that faith brings, because we have had our hearts sprinkled clean from an evil conscience and our bodies washed in pure water. And let us hold unwaveringly to the hope that we confess, for the one who made the promise is trustworthy. And let us take thought of how to spur one another on to love and good works, not abandoning our own meetings, as some are in the habit of doing, but encouraging each other, and even more so because you see the day drawing near.
But to each one of us grace was given according to the measure of Christ's gift...And he himself gave some as apostles, some as prophets, some as evangelists, and some as pastors and teachers, to equip the saints for the work of ministry, that is, to build up the body of Christ, until we all attain to the unity of the faith and of the knowledge of the Son of God—a mature person, attaining to the measure of Christ's full stature. So we are no longer to be children, tossed back and forth by waves and carried about by every wind of teaching by the trickery of people who craftily carry out their deceitful schemes. But practicing the truth in love, we will in all things grow up into Christ, who is the head. From him the whole body grows, fitted and held together through every supporting ligament. As each one does its part, the body builds itself up in love.
The New Testament includes several metaphors about the church but one of the most prominent is that of a body. This body is made up of many diverse parts and headed up by Jesus Himself. God's goal for us is not simply that we would be one body. Rather, He desires a mature body - one that is strong, equipped, healthy, full of knowledge, and full of love. This is a body that shows the surrounding world that Jesus is alive and powerful. As we help others become followers of Jesus, we are helping to edify this body. What a calling! This means that our goal is not just individual growth but corporate growth. As each of us strengthens themselves and others in their sphere of influence, we all become strong.
Let's close with some reflection questions:
Who are the people who have built me up in the faith? Say a prayer of thanksgiving for them and maybe reach out to say "thanks!"

In my relationships with other Christians, am I helping them to become more complete and mature? How can I be intentional to do so?

Hebrews exhorts us to meet together so that we can "spur one another on to love and good works." Who has spurred me on recently? What did they say or do?

What are some marks of maturity in my spiritual life? Where do I see God at work making me more like Jesus?
Published on 11-17-2021 @ 4:32 AM CDT