We're in a new series called "Foundations" which builds off of Jesus' metaphor in Matt 7: "A house built on sand will never be able to stand BUT a house that's built on the rock will never be able to fall."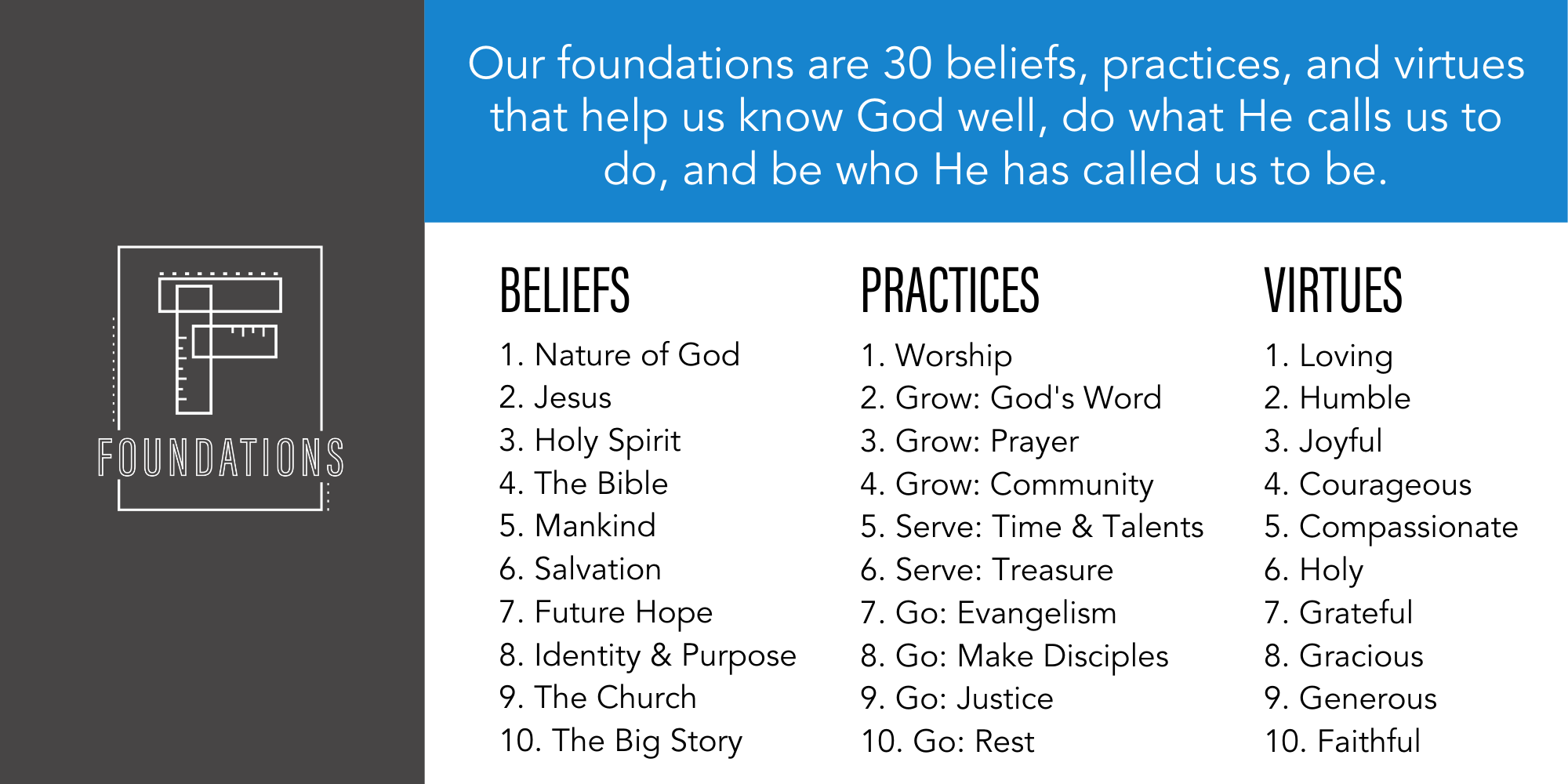 This week, we're in Practice #8: Go Make Disciples. We will look at four ways the New Testament describes discipleship, or the process of making more followers of Jesus. These descriptors include the words mutual, didactic, edifying, and holistic.
Today, let's consider that discipleship is didactic, meaning that it is primarily an exercise of teaching and learning. First, let's read from Col 3:16-17 (NET):
Let the word of Christ dwell in you richly, teaching and exhorting one another with all wisdom, singing psalms, hymns, and spiritual songs, all with grace in your hearts to God. And whatever you do in word or deed, do it all in the name of the Lord Jesus, giving thanks to God the Father through him.
The Word of God includes 66 different books composed under the direction of the Holy Spirit and written by around 35 authors. It includes stories, wisdom, proverbs, songs, theology, prophecy, and more. It tells one grand Story about a God who is rescuing His creation through His Son Jesus. Jesus has already come but He is coming again to usher in a new creation.
This Word of God is alive and active - it changes us when we submit to learning it and internalizing it. Colossians 3 exhorts us to let Scripture "dwell in [us] richly." This is not mere learning. Instead, when disciples of Jesus receive knowledge about God, they let it burrow down deep into their soul. They allow it to change them. Only then are they able to pass it on, to teach and exhort others "with all wisdom."
Let's close with some reflection questions:
Would I say that God's Word "dwells in [me]," such that its teaching has become part of who I am?

How has learning about God - who He is and what He has done - fueled my ability and desire to follow Jesus?

Discipleship includes the receiving and the giving of teaching about Jesus. What teaching have I received from others? What teaching have I given?

How can I be a catalyst for my community to be a place where people teach and exhort one another as they worship God (Col 3:16-17)?
Published on 11-16-2021 @ 4:32 AM CDT