We're in a new series called "Foundations" which builds off of Jesus' metaphor in Matt 7: "A house built on sand will never be able to stand BUT a house that's built on the rock will never be able to fall."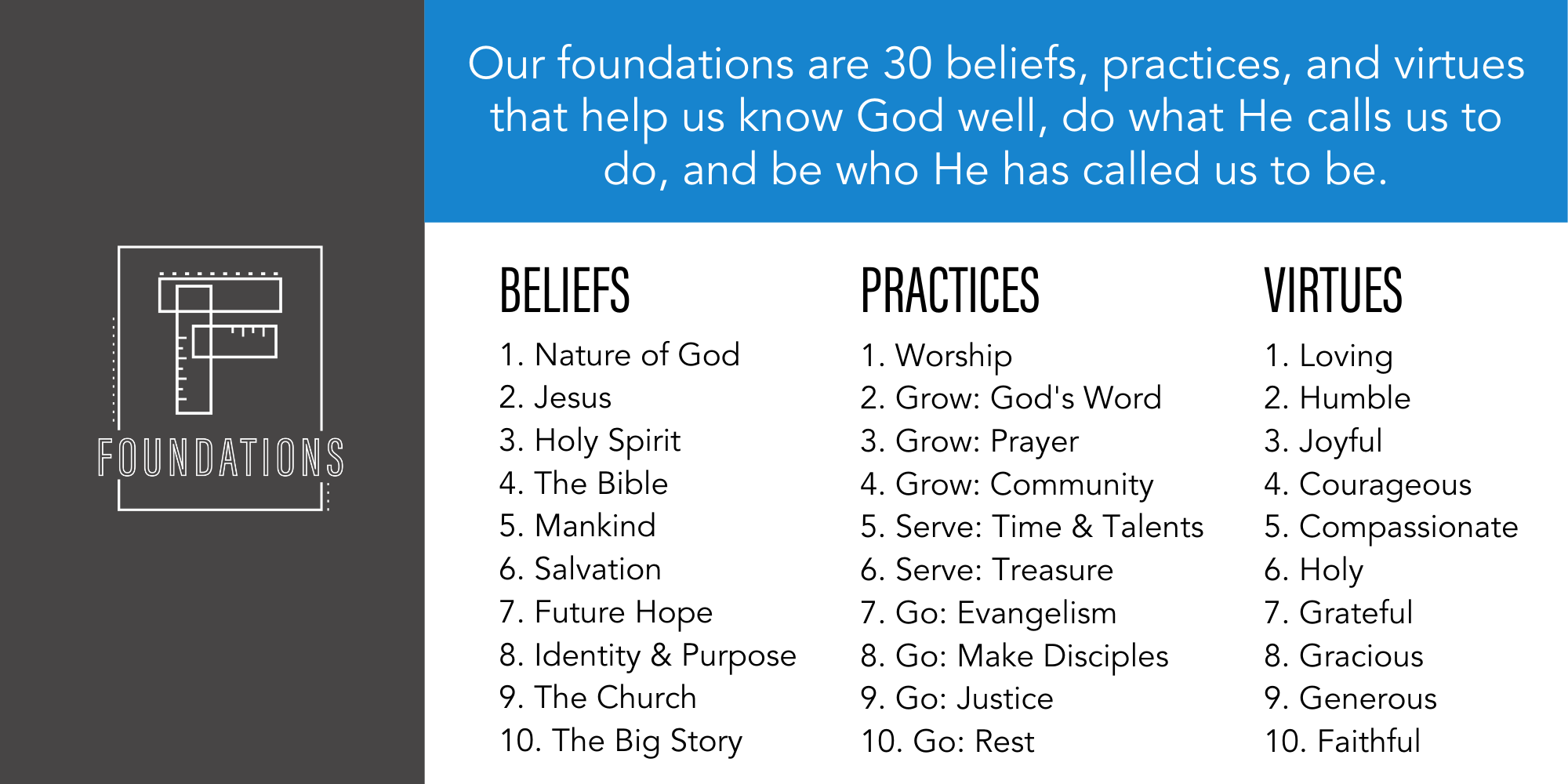 The farmer who plants a great deal of seed is going to enjoy a more bountiful harvest than the farmer who plants only a little. Paul tells us in 2 Corinthians 9:6 this is also the case for the spiritual realm. Those who give generously will reap abundantly for the kingdom of God. It is not always easy to know how and when to wisely give our money. The beauty of giving our resources to the Lord is that what is given is never lost, it is sown. Not only are needs met through our giving to God, when we give generously we also will "be enriched in every way to be generous in every way, which through us will produce thanksgiving to God." (9:11) There is a snowball effect when we give generously. A temporary, finite resource becomes an eternal blessing not just for us but for God's kingdom outworking and even for God himself when we entrust it to him. Consider the generosity of the God we serve, who had all he could ever want perfectly within himself, and chose to sacrifice greatly in order to invite us into eternal relationship with him and all its blessings. Do we believe happiness is found in that relationship and not in material goods or financial security? If we do, then our giving becomes an act of trust in that belief and an act of worship of the God who is more generous than we dare to hope.
For Group Leaders
Begin in prayer. Welcome the Holy Spirit to the group and invite Him to lead, guide, and convict your group as you meet together.
Reflect on Sunday's sermon as a group. What were some highlights? Was anything particularly helpful, convicting, or confusing?
Consider the following questions and pick a few to focus your discussion.
Examine the Word
Read Luke 12:13-15.
Read Malachi 1:10-14; 3:6-15.
Read Mark 12:41-44.
For Discussion
Explore Jesus's statement in Luke 12, "life doesn't consist in an abundance of possessions." Do we really believe this? Why might it be hard for us to believe? How is our culture setup against this belief?
What do you think is so appealing about prosperity gospel? How is it related to the "myth of more," the idea that the the more we have, the better life is? Discuss how these passages in Malachi speak against these two prevalent lies.
What do you think it looks like for you to give God your first and best?
What is comforting about Jesus's view of the poor woman's giving in Mark 12? What is convicting?
Practice
Tithing: Are you giving to the local church? For opportunities on how to give at Dallas Bible, visit

dallasbible.org/give

.
Giving: Do you support any missionaries? Consider giving to the short and longterm youth and adult missions trips and missionaries we are sending out. For a list of our missionaries and more information on how to give you can visit

dallasbible.org/missions

.
Worship: take inventory of all the things big and small, physical and immaterial, that God gives to you in a day. Spend particular time thinking of things that are easy for you to take for granted. Once you have a list in front of you, use it to praise God for the incredible generosity he practices toward you, and worship him for the things he is freely giving not just to you, but to all, even those who rebel against him and curse his name.
Prayer: Ask God to give you new eyes to see his generosity toward you, so much so that your own giving becomes an ever- growing joy. Ask God to help you see those around you who are in need and to pounce on giving opportunities with quickness and self-forgetfulness in such a way that you give without your left hand knowing what your right is doing (Matthew 6:3).
For Family Discussions
Take some time to talk about the sermon together. What did you learn that was new? Were any parts confusing?
Money buys us lots of things we can enjoy. Is God more valuable to us than money? How so?
God wants us to be generous. How has God modeled generosity for us? Make a list of the gifts God gives us each day, including ones we might take for granted.
How can your family give together? Discuss how you might set up a way for your children to practice tithing, perhaps from an allowance you provide.
Spend time in prayer thanking God for his constant, generous provision, most especially the life and work of Jesus.
Published on 10-31-2021 @ 12:02 PM CDT