We're in a new series called "Foundations" which builds off of Jesus' metaphor in Matt 7: "A house built on sand will never be able to stand BUT a house that's built on the rock will never be able to fall."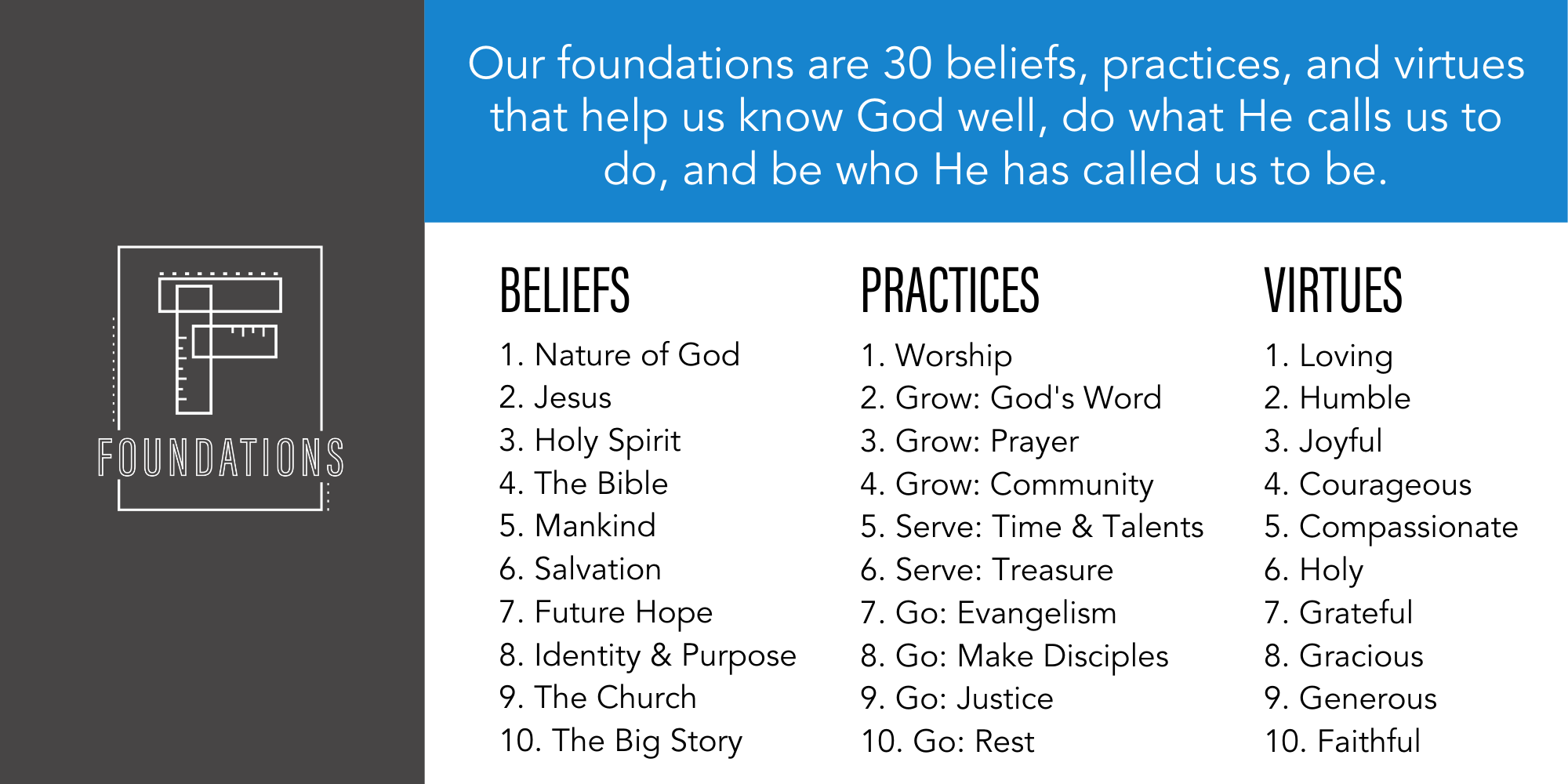 This week, we're in Practice #6: Serve with Generosity.
We will enter into God's presence through His holy Word today. If you can, give yourself 15 minutes to just be with God. Set a timer and put everything else away except for you, your Bible, and the device you're reading this on. We're going to meditate on the absurd and overwhelming generosity of God toward us in Jesus.
Let's start: "God, you are good and you are true. You've given me your Word as a gift. Thank you that I can know you. Thank you that I can worship you. Open my mind to your truth as I contemplate your rich generosity toward me. Open my eyes, calm the distractions, and let me see you."
Now, let's read from Ephesians 2:4-10 in the NET (New English Translation):
But God, being rich in mercy, because of his great love with which he loved us, even though we were dead in offenses, made us alive together with Christ—by grace you are saved!— and he raised us up together with him and seated us together with him in the heavenly realms in Christ Jesus, to demonstrate in the coming ages the surpassing wealth of his grace in kindness toward us in Christ Jesus. For by grace you are saved through faith, and this is not from yourselves, it is the gift of God; it is not from works, so that no one can boast. For we are his creative work, having been created in Christ Jesus for good works that God prepared beforehand so we can do them.
Ponder this: The God of all heaven and earth, the God of all holiness and majesty - He is

rich in mercy with great love

. And not just generically. He is rich in mercy toward YOU. You!
Spend some time thinking about what mercy is and why God would choose to grant it to you. Worship Him for his merciful love. Sit in the recognition that you, though sinful, have been granted mercy.
Ponder this: The God who created all things and owns everything has granted you the

surpassing wealth of his grace in kindness

.
What has the kindness of God looked like in your life? Make a list (on paper or in your head) of some of the ways He has been kind to you. Sit in the idea you are surpassingly wealthy in God's grace. What?! You have been absurdly and overwhelmingly given the gift of grace from God. This makes you, spiritually speaking, wealthy. Worship God for the wealth of His grace in your life.
Ponder this: The faith that you have in Jesus is not something you conjured up on your own; it is a

gift

from God Himself.
Have you ever considered faith as a gift? How does that enhance your understanding of your faith? Spend some time thanking God for the good gift of faith in Jesus Christ. Spend some time praying for others who still need to receive that gift. Meditate on the goodness of a God who would single you out and give you a gift like this.
Now go in joy and peace and generosity.
Published on 11-01-2021 @ 4:03 AM CDT