We're in a new series called "Foundations" which builds off of Jesus' metaphor in Matt 7: "A house built on sand will never be able to stand BUT a house that's built on the rock will never be able to fall."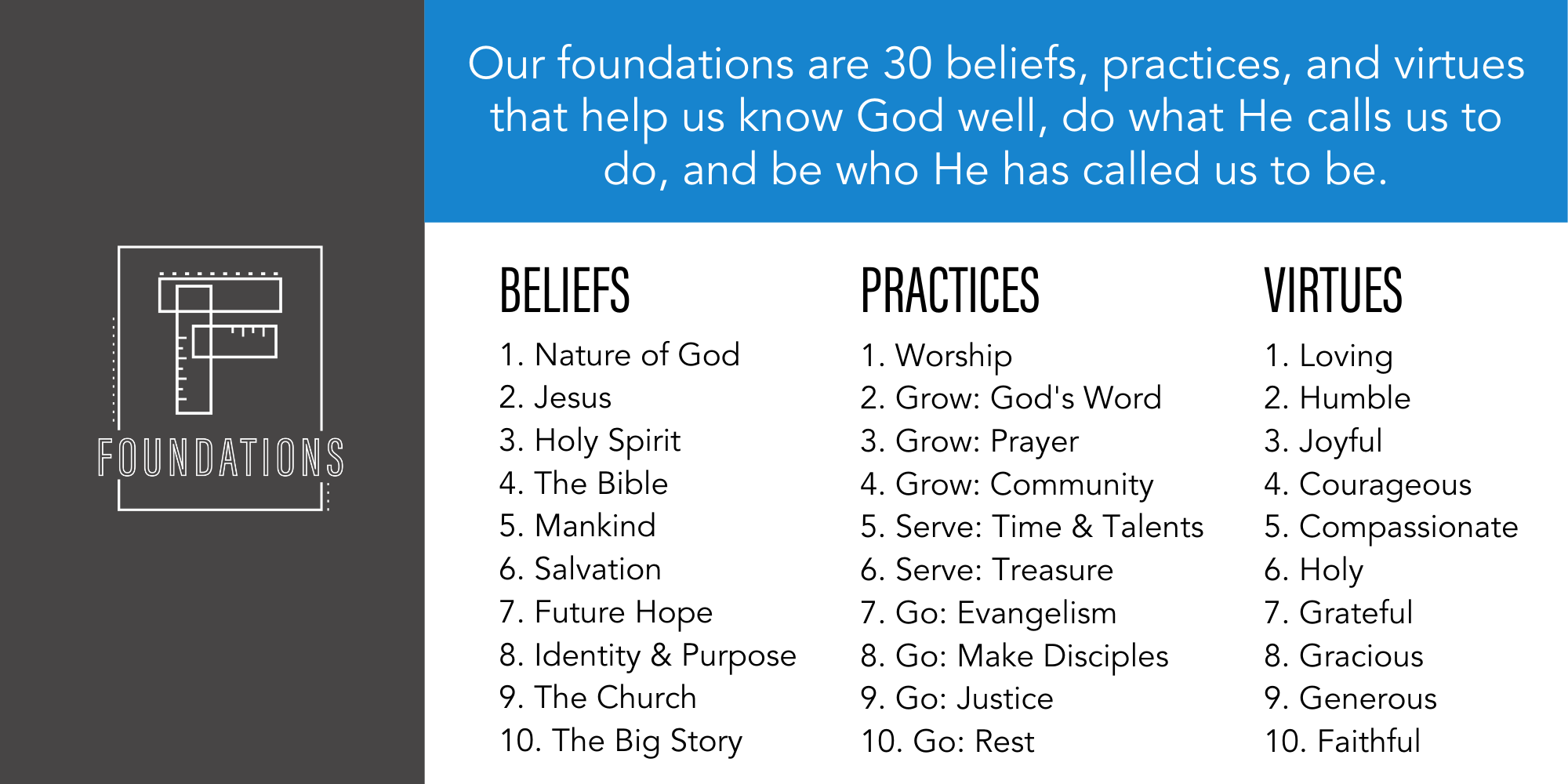 One of the most audacious things ever asked by Jesus' disciples is found in Mark 10:37 when two brothers, James and John, say this: "Permit one of us to sit at your right hand and the other at your left in your glory" (10:37). Wow! They are vying for the top positions in the future Kingdom of God! Jesus tells them that their question is misplaced and belies selfish ambition, which is the opposite of discipleship. Instead, Jesus' disciples must heed these words: "whoever wants to be great among you must be your servant, and whoever wants to be first among you must be the slave/servant of all" (10:44). Twenty millennia later, we think similarly to Jesus' disciples (if we're honest). We want to follow Jesus. But we also want a good spot at the table. We want to be like Jesus. But we also want comfort…and self-fulfillment. The way of Jesus is a constant contradiction to our fleshly natures and an invitation to empty ourselves the way that He constantly did.
For Group Leaders
Begin in prayer. Welcome the Holy Spirit to the group and invite Him to lead, guide, and convict your group as you meet together.
Reflect on Sunday's sermon as a group. What were some highlights? Was anything particularly helpful, convicting, or confusing?
Consider the following questions and pick a few to focus your discussion.
Examine the Word
Read Mark 10:35-45.
Read Philippians 2:1-8.
Read Ephesians 4:11-16.
For Discussion
Why did Jesus the Messiah view Himself first and foremost as a servant? What implications does that have for those of us who follow Him?
Service and humility go hand-in-hand. Talk about how the virtue of humility leads to the act of service (and vice versa). How have your group members seen this to be true in their own lives?
Biblical service is always missional - pointing others to Jesus and growing the church. How have you seen the gospel on display through service?
The New Testament tells us that as we serve out of the giftedness given to us by the Holy Spirit (see Romans 12), we mature and become more Christlike (individually and corporately). How does knowing your giftedness help you serve?
Practice
Presence: One of the resources each of us has is time. Assess how much time you have this week and make a plan to "give it away" by practicing presence with someone. Your goal is simply to be with the person that God brings to mind. Set a time to be together in-person with the goals of asking good questions, listening well, and praying for them.
Giftedness: How are you gifted by the Holy Spirit? Ask some friends/family who know you well to enter into an ongoing dialogue with you about what they see God doing in and through you. Ask them: "What spiritual gifts do you think God has given me?" And then, consider taking a spiritual gifts test to see what you find. This is a process…so there's no need to rush to an answer. Ask God to confirm your gifts in His timing.
Maturity: Take an inventory of your own service history by writing down the ways you've served God in the last five years. How have you grown and matured through that process? How has the body of Christ grown and matured around you through your involvement?
Ask: Maybe God is calling you to serve in a new way. That can be scary! Ask Him what He has for you and take a risk. There's never a "wrong" way to serve.
For Family Discussions
Take some time to talk about the sermon together. What did you learn that was new? Were there any parts that were confusing?
How can your family serve together? List out five different options for service opportunities in your local area.
How has God gifted each member of your family? Have everyone write down a gift they see in each of the other's lives.
Spend time in prayer, thanking Jesus for setting the example of service through His willingness to go to the cross to die for us and offer us salvation.
Published on 10-24-2021 @ 4:00 AM CDT