We're in a new series called "Foundations" which builds off of Jesus' metaphor in Matt 7: "A house built on sand will never be able to stand BUT a house that's built on the rock will never be able to fall."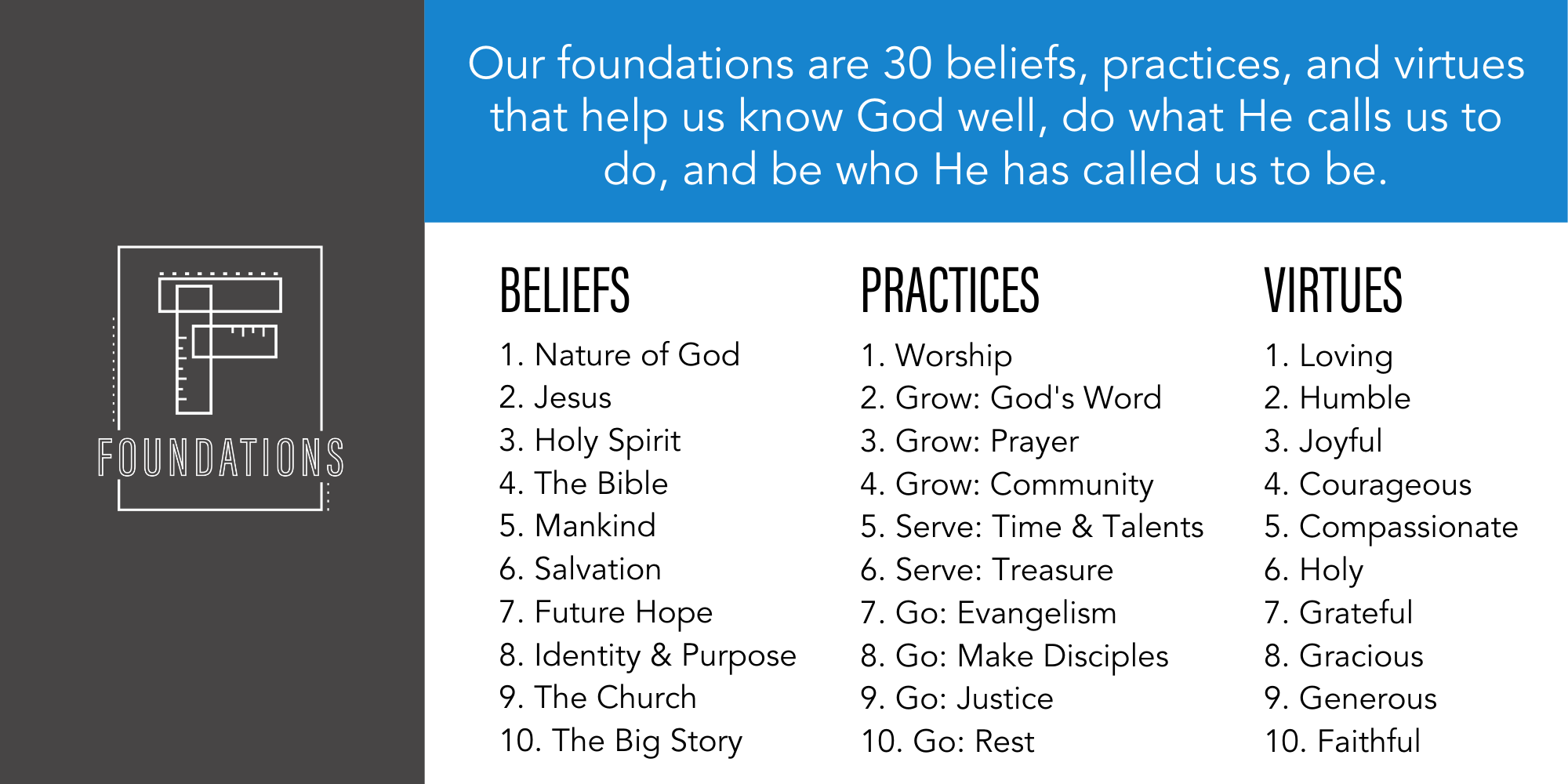 This week, we're in Practice #5: Serve with Time & Talents. Today, let's get really practical as we explore options for serving here at Dallas Bible. Would you consider one of the following options as your next step?
1. Sunday Serve Team
One of the gifts we get to provide to one another on Sunday mornings is hospitality - a welcoming smile, a friendly face, a genuine conversation, or simply some coffee. We have new guests joining us each week and we want to honor them well by being prepared to answer their questions, integrate them at DBC, and make them feel seen and loved. Our hospitality team is comprised of greeters, ushers, and coffee bar servants. If you love people and want to help us live out our DBC value of "intentional relationships, not passive familiarity" then we'd like to have a conversation about you joining our team!
2. Family Ministry Team (Kids Jr., Kids, Youth)
Worship happens not only in the main worship center among adults on Sunday mornings. It happens all across our DBC campus - where babies, kids, middle schoolers, and high schoolers assemble to praise God, learn about the Scriptures, and grow in their faith. Would you like to partner with us in pouring into the next generation? If you want to have a deep impact on the world around you, consider serving with our family ministry teams.
3. Media Support
Our worship services depend on the behind-the-scenes work of people who assist with lighting, sound, slides, video, and more. The media team helps us to excellently cultivate a worship-filled experience for those who join us in-person on Sundays as well as those who join us online. If you enjoy using technical skills to serve the body of Christ, we'd like to have you join our team.

To start a conversation about serving in one of these areas, fill out this form.
Published on 10-28-2021 @ 4:32 AM CDT