Foundations Blog
We're in a new series called "Foundations" which builds off of Jesus' metaphor in Matt 7: "A house built on sand will never be able to stand BUT a house that's built on the rock will never be able to fall."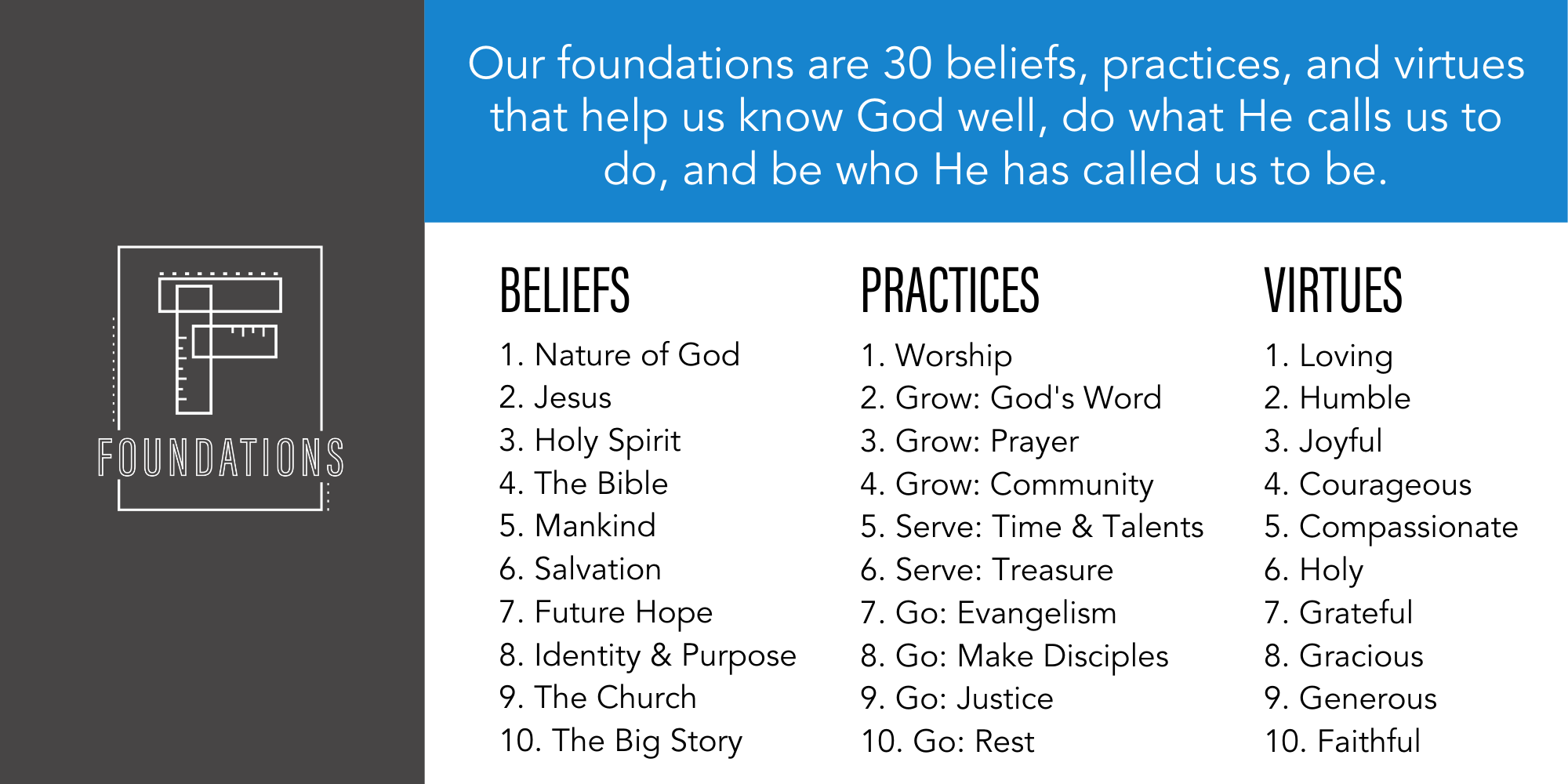 This week, we're in Practice #4: Grow in Community. Pastor Aaron Armstrong helpfully coached us through the HOWs of community that God desires for His children. When we look at the way Jesus led and loved, we see that he intentionally focused on commitment, truth-speaking, vulnerability, and prayer & care.
Today, let's consider how committed we are to the people in our community. Some helpful questions:
Do we love one another regardless of whether we like one another? Why or why not? How have the world's values shaped us in this area, instead of Jesus' values?

Is the quality of your community's connection more important than the quantity? How can you tell?

Does the unity of your group show those on the outside that Jesus is real?

Are you on mission together? How can you tell?

Have you ever left a group because it was inconvenient or messy? What were the results?
Each day this week we'll close with five intentional minutes meditating on John 15:9-17 (NET).
But, first, it's good to be reminded what it is to meditate on Scripture. Gail Pitt, in her book "First We Were Loved," describes the process like this: "Read through the Scripture three times, out loud if possible. Notice any word or phrase that seems to stand out. When this happens, stop and just stay with the word or phrase and see where your heart goes. See where He leads you. Pay attention to your feelings and be honest. He desires honesty and nothing is a surprise to Him. He is sturdy and can handle anything you have to say."
Here we go:
9 "As the Father has loved me, so have I loved you. Now remain in my love. 10 If you keep my commands, you will remain in my love, just as I have kept my Father's commands and remain in his love. 11 I have told you this so that my joy may be in you and that your joy may be complete. 12 My command is this: Love each other as I have loved you. 13 Greater love has no one than this: to lay down one's life for one's friends. 14 You are my friends if you do what I command. 15 I no longer call you servants, because a servant does not know his master's business. Instead, I have called you friends, for everything that I learned from my Father I have made known to you. 16 You did not choose me, but I chose you and appointed you so that you might go and bear fruit—fruit that will last—and so that whatever you ask in my name the Father will give you. 17 This is my command: Love each other.
Father, make this true of us. Amen.
Published on 10-18-2021 @ 4:52 AM CDT